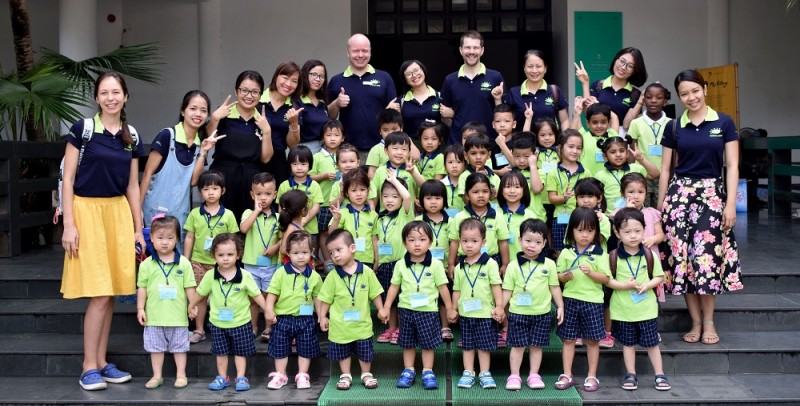 Located in Ciputra, Hanoi Sunshine House Kindergarten is a private day school for boys and girls ages 1.5 to 6. Sunshine House provides a community and culture that promotes lifelong learning by developing critical thinking, collaboration, and thorough preparation for the future. Our focus is on the whole child.  We are led by a strong faculty who work to help all students reach their full potential in the classroom and beyond. Discover the best in Hanoian education.  We acknowledge that all members of our community including children, families, and teachers have rights and all interactions should include respect. Trust underpins all positive relationships and is an integral part of the relationships that are fostered at SHIK. The notion of compassion is an enabling word that helps us understand, show empathy and transform.  All of these values working together provide a rich environment for nurturing strong relationships and friendships, which are the cornerstone of quality early childhood education.
Mission
The mission of Sunshine House Academy is to provide an innovative, challenging curriculum in a loving environment that furthers a philosophy of respect and high expectations for all students, parents, teachers, and staff.
Core Values
At S.H.I.K. we aim to:
Build and foster a sense of community that is inclusive, welcoming, and respectful of the values, beliefs, and practices of all cultures and backgrounds
Empower and include all individuals
Focus on developing the whole person
Create a safe, nurturing, challenging, stimulating, sustainable and aesthetically pleasing environment
Make a child's physical environment 'an educator' in its own right
Moral Courage
Our students are taught to do what is right, not necessarily, what is popular or convenient. It is through their leadership and passion for education that we have become one of the Hanoi's best kindergartens. Our students develop the confidence to stand up for what they believe in.  Because of this focus, we believe our students gain balance, conviction, compassion, and integrity attributes that will serve them well in college, careers and in leading successful lives.